The clients for this project desired to live in a 'New York pre-war co-op' style apartment. Three units and 15′ of the corridor in this
modern concrete high-rise were completely gutted and reconfigured by NPLH to create a formal foyer, library, and dining room. The living
room is large enough for 2 sitting areas and a baby grand piano. Being on the top floor allowed for the installation of a wood-burning
fireplace. NPLH concluded this year long project by assisting the clients with the search for and installation of numerous pieces of art which are integral to the décor. The skills, experience, and 'can-do' attitude of the general contractor and his crew helped to make this project a success and an enjoyable experience.
GC: ZV Improvement
Custom cabinetry: Joliet Cabinet
Light fixtures: Source of Light
Plumbing fixtures: Community Home Supply
Carpet: Patterson Flynn Martin
Installation: Klujian Rugs
Hardware: Clark and Barlow
Photographer Richard Hellyer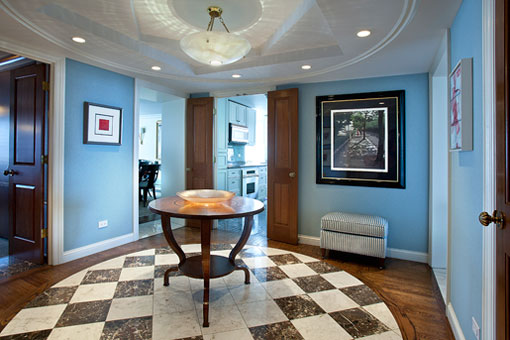 For more information about this project or any of our other projects, send us a message or give us a call.